We're delighted that you want to know us better!
We create products from the ground up at our UK design hub


Welcome to the creative world of IF. We are proudly a trade only supplier and hope to soon become your go-to base for discovering highly original gift ranges for your customers. We've been designing, manufacturing and distributing for over 20 years to gift, book and stationery sellers everywhere - currently we ship to more than 70 countries. All our ideas take shape at our design hub in the UK where we have a dedicated team of talented creatives turning our ideas into product reality. We have warehouse distribution operations in both the UK and USA with customer service teams spread over three continents. 90% of our business comes from happy repeat customers!
Our wide range of consumer goods products makes us a really good 'fit' for many types of retailer. Broadly, our ranges sell well in Gift Stores, Book Stores, Department Stores, Garden Centres and Supermarkets. We also sell more specific items to many other types of retailer including Opticians, Pharmacies, Airlines, Visitor Attractions and Mail Order companies.
As a business we have have an efficient, effective and proven trading model. We hold stock and operate pick-and-pack wholesale operations in the UK and USA, with production facilities at both locations where we can rework product to customer specifications if required. We offer merchandising services, as do some of our distributors, in other territories where possible. In addition, we have a Hong Kong Showroom and China office from which we can monitor and operate strict compliance testing, QC and factory audits. You can be confident that when it comes to complex and stringent supply terms we tick all the boxes and we also offer direct shipment, quoting FOB pricing for products on an MOQ low margin basis.
Creatively, IF have collected many product design awards and received 'Best Buy' recommendations in popular newspapers, magazines and on TV. We pay equal attention to our imaginative, high quality packaging and eye-catching display merchandising as we do in the product itself, helping to guide the customer to an informed and confident buying choice. Most of our product ranges are available with their own purpose built point of sale displays for easy merchandising and, additionally, we produce various co-ordinated product ranges for retailers, merchandised on floor standing displays, aisle ends, queue lines or wall space. Importantly, we can offer valuable EPOS sales information for different retail categories.
We offer a high level of personal customer service as we recognise how important it is to keep everyone happy at every stage. As a flexible and positive-minded company, we are looking for win-win relationships with our trade customers - several of our key retail and distribution partners have been working with us for over 15 years now, and whilst we will never grow complacent, we are pleased to receive their continued feedback to know we're keeping our promises. If you're new to IF, we'd love you to give us try...
A WIN WIN RELATIONSHIP
Click to see 10 good reasons that IF can work for your business...

1. We don't sell to the public! We only sell through selected retailers and distributors throughout the world.
2. Our products are available in over 70 countries worldwide through our exclusive network of distribution
partners and agents.
3. We have NO Minimum Order Quantity.
4. We sell in 3s in most cases.
5. We have various merchandising options available.
6. We offer free carriage over £100 in the UK.
7. We hold stock and fulfil orders from our own production and warehousing facilities in the UK and US.
8. Our Customer Services department has REAL people on the end of the phone.
9. You can order online at www.ifplc.com.
10. Or place an order over the phone or by email.
TRADE SHOW DATES
Click to see all our upcoming trade events...
Come and see us at a trade show
EUROPEAN and ASIA EVENTS
Please note that all trade shows for these regions have been cancelled until further notice due to the Coronavirus (Covid-19) pandemic.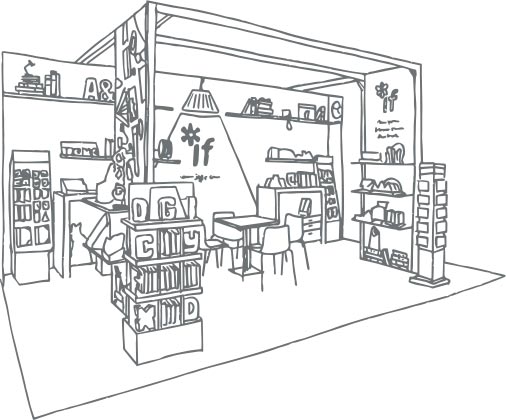 NORTH AMERICAN EVENTS
Please note that all trade shows for this region have been cancelled until further notice due to the Coronavirus (Covid-19) pandemic.
CONTACT US
Click to see all the ways you can get in touch...
OUR ADDRESS
IF House, Thornton Road, Pickering, North Yorkshire, YO18 7JB, United Kingdom
TELEPHONE : +44 (0) 1751 47 57 57
FAX : +44 (0) 1751 47 25 55
EMAIL : info@ifplc.com
We're always pleased to hear from our customers - however you choose to get in touch.
Our UK office hours are 9:00am - 5:30pm Monday to Friday

3 GREAT WAYS TO STAY IN TOUCH
We'd love to keep you updated on all our latest activity - particularly when we launch new products that we think might interest you. We try to develop between 8-12 new products each year. In addition, there's no better way to get to know these ranges better than popping along to see us at one of our our Trade Shows. We exhibit here in the UK, around Europe and in the USA. And then there's our eagerly anticipated annual catalogue filled to the brim with our very latest creations. We hope you'll get in touch soon.
1. Sign up to our 'new product' trade emails
You'll be the first to know
The easiest way to stay right up-to-date with what we're doing is for us to ping you an email every time we make something new. So whenever we launch a new product, you'll be the first to know about it. Subscribe and we promise not to bombard you - you'll only hear from us when we've really got something good to say!
2. Send for a copy of our trade catalogue
Browse at your leisure
We publish a reassuringly chunky trade only catalogue to showcase all of our ranges and impart a lot of other useful information about us. Perfect for when you want to find some quiet time to hunker down with a brew and a biscuit and have a really good and - hopefully - uninterrupted read at your own pace. Request your copy today.


3. Come and say 'Hi' at a trade show
See our ranges close up
Throughout the year we attend many international trade shows. These events are a perfect opportunity for buyers to get to grips with our gift ranges first hand and is often the platform we use to launch new products or in many instances preview our pre-launch products. It's well worth just a few minutes of your day to pop onto our stand. A warm welcome is guaranteed. As are new and original products! We hope to see you soon.
If you are attending a particular show and would like to arrange a meeting with one of our show team, please contact us and we can arrange that for you.